Monday, Jul 2, 2018
Job Opening: Motion Graphics Intern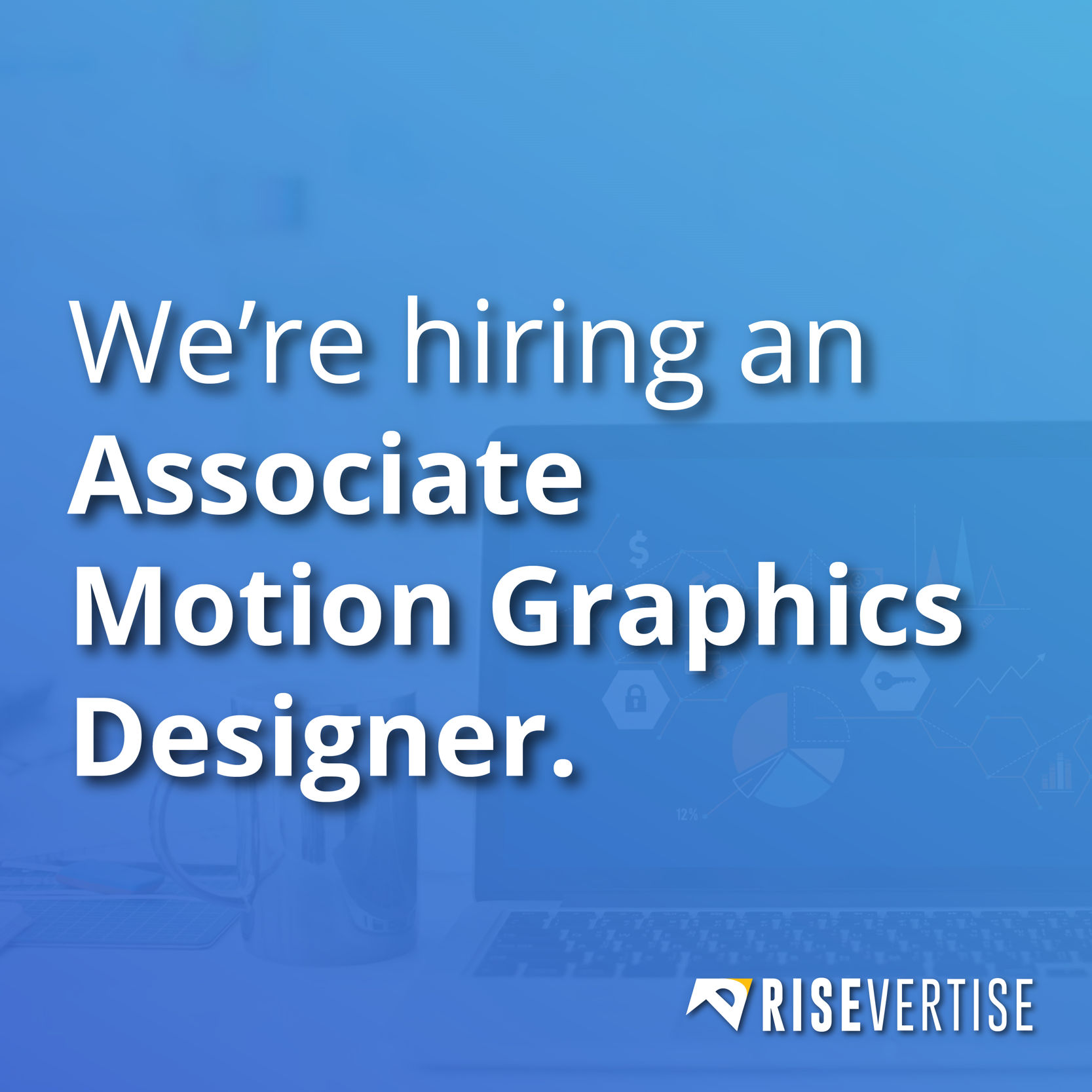 Company Introduction
Risevertise Media is a design studio that enables brands to communicate stories and create exceptional user experiences. Through strategic insights and tailored design solutions, we collaborate with passionate brands to create something exceptional together.
Description
We are looking for a Associate Motion Graphics Designer, who is able to understand our business requirements and any technical limitations, as well as be responsible for conceiving and conducting design plans, concept and layout for motion graphic project/s and translating them into mock ups and prototypes.
Design and create enticing motion graphics for video deliverables (corporate videos, eLearning, websites, marketing demos, etc.)
Create and deliver motion graphics in various media including web, mobile, etc.
Work with art and creative teams to understand project scope and objectives.
Assist in selecting audio, video, colors, animation, etc for graphic design.
Work with editors, producers and other designers to resolve technical and/or design issues.
Edit raw video footage and add effects/elements to enhance motion graphics.
Research and analyze best design techniques and solutions to create motion graphics.
Assist in designing and creating storyboards.
Participate in brainstorming session to share new design perspectives and ideas.
Maintain and follow best practices for versioning control, naming convention and organization of graphic files.
Maintain up-to-date knowledge about latest graphic design techniques.
Ensure compliance with company guidelines, deadlines and design standards.
Requirements
Basic knowledge in standard software's such as Adobe AfterEffects, Adobe PhotoShop, Adobe PremierePro, Cinema4D, Final Cut Pro.
Ability to work with clients to understand detailed requirements and design complete experiences that meet client needs and vision.
Experience in using design best practices to design solutions, and a deep understanding of mobile & web design.
Ability to iterate designs and solutions efficiently and intelligently.
Ability to clearly and effectively communicate design processes, ideas, and solutions to teams and clients.
Be passionate about creating creative properties through great design.
Be passionate about all things Motion Graphic Design and other areas of design and innovation. Research and showcase knowledge in the industry's latest trends and technologies.
Experience
Formal design education background (NID, SID, MIT, UPES, Srishti) is a plus but primarily should have the passion, desire to learn and the will to not stop fast but keep going till that last mile is a must!
Basic design foundation knowledge/ skills are also good enough.
Preference would be given to less experienced and dedicated professionals who want to grow and evolve for themselves personally while being guided and mentored
Interested candidates can send their resume and portfolio to aditi@risevertise.com